Multi-Hand Video Poker
Whether for increased thrills or larger potential win read why some players absolutely love playing multi-hand video poker.
Multi-Hand Video Poker a Popular Choice
Poker has always been a popular choice for casino lovers. It combines elements of skill and chance. However, with the rise of online casinos, players now have options to play more exciting game versions. That is of course Multi Hand Video Poker. In this review, we will look at the ins and outs of multi-hand gameplay. We will discover how it can result in larger payouts. Ultimately increasing and enticing adventures for Poker players.
In essence, Multi Hand poker is identical to normal poker. Except, for example instead of paying $1 for one hand, players will pay $4 and receive 4 hands.
The Mechanics of Multi-Hand Video Poker
In traditional video poker, players would play a one-on-one game against the machine. However, multi hand video poker brings a thrilling twist by allowing players to participate in multiple hands simultaneously. Instead of receiving a single hand, players are dealt multiple sets of cards, usually ranging from 3 to 100 hands, depending on the game variation and online casino they choose. This dynamic gameplay adds an extra layer of excitement and variety to the overall experience.
The mechanics of multi hand video poker are similar to those of its single-hand counterpart. in the beginning, players are dealt a set of five cards and must deliberate on which cards to retain and which to discard for the best hand possible. Following the player's decision, the discarded cards are substituted, and the resulting hands are assessed to ascertain the payout.
Software Providers
Multi Hand Video Poker is offered by various online casino software providers. These providers are known for their expertise in developing high-quality and engaging casino games. Some of the prominent software providers that offer Multi-Hand Video Poker include Microgaming, Rival Gaming and WGS among others.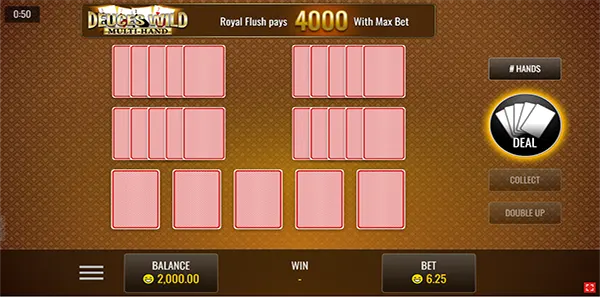 The Positives and Negatives of Multi-Hand Video Poker
Multi Hand video poker presents both advantages and disadvantages, and the ultimate decision of whether it's preferable to its single-line counterpart depends on the player's personal preferences. One of the notable benefits of playing with multiple hands is the enhanced excitement and dynamic nature of the game compared to single-hand versions. Additionally, it allows players to save time as they can engage in a higher number of hands simultaneously, speeding up gameplay.
However, the faster pace of multi hand play can lead to increased errors, potentially resulting in detrimental mistakes. Moreover, the risk of depleting one's bankroll rapidly is higher when playing with multiple hands. This is particularly relevant when wagering on a significant number of lines, such as 100, which may necessitate a substantial initial investment.
While a strong starting hand in multi hand video poker holds the potential for substantial winnings, a weak initial hand offers a higher risk of losing a considerable amount of money, especially if you do not anticipate a promising payout. Ultimately, players should consider these factors and consider how much money you plan to risk when deciding between single hand and multi hand video poker.
Bigger Payouts: Winning Multiple Hands at Once
One of the main advantages of multi hand video poker is the opportunity for bigger payouts. When playing multiple hands, players unlock the potential to secure winnings across several hands with a single bet. This means that if a winning combination happens on more than one hand. This can result in significantly bigger wins, as the player's success is multiplied by the number of winning hands they have achieved.
The Double Up Feature
The Double Up or Gamble feature is a common feature in both single hand and multi hand video poker games. It becomes available to players after they achieve a winning hand. Players can choose to settle for their initial winnings or take a risk to double them. If they choose to take a risk to double down, a separate screen appears displaying five face-down cards, with the first card representing the dealer's card.
To double their winnings, players must select one of the remaining face-down cards after the dealer's card is revealed. If the chosen card has a higher rank than the dealer's card, the player's winnings are doubled for all winning hands.
However, if the dealer's card is higher, the player loses everything. In the event of a tie, where the ranks are equal, winnings are doubled.
Double Half Option
Certain multi hand video poker variations also offer the Double Half option, allowing players to risk only half of their winnings. This provides a less risky alternative for those who wish to capitalize on their success without putting everything at stake. Players need to exercise caution when using the Double Up feature, as continuously attempting to double or triple winnings can result in the loss of all accumulated winnings.
Conclusion
Multi Hand Video Poker at online casinos introduces a whole new level of excitement and winning potential to the classic game. With the ability to play multiple hands simultaneously, players can experience more action and faster game play.
The chance to win on multiple hands with a single bet can result in significantly bigger payouts and create an exhilarating gaming experience. By employing the right strategy and managing their bankroll effectively, players can maximize their chances of success and unlock the full potential of multi hand video poker. So why not give it a try and see if you can unlock the big wins that await in the world of multi hand video poker?
Wild Casino

250% bonus up to $1,000
US Accepted
Mobile Available
Progressive Jackpots
Live Dealer Games
18+ Terms and Conditions Apply
See casino site for more information. Please gamble responsibly. 18+ begambleaware.org.