RTG Sevens Wild Video Poker
VP is popular in all casinos online and offline. See our review of RTG Sevens Wild Video Poker to see why players like this variation.
Sevens are Wild
Sevens Wild Video Poker is a highly popular video poker game, attracting players from all over the world. The game blends the traditional rules of poker with a twist: all sevens in the deck act as wild cards. This feature adds an exciting and unpredictable element to the gameplay, allowing players to create bigger hands and potentially earn larger payouts.
Video Poker Has Many Variations
The game comes in a variety of different versions and formats, offering players a range of options to choose from. From single-hand to multi-hand versions, as well as different betting options, Sevens Wild Video Poker caters to players of all skill levels and preferences. Its popularity can be attributed to its unique gameplay, which combines the thrill of poker with a fun twist.
How to Play Sevens Wild VP
RTG Sevens Wild Video Poker is played like traditional poker. The player is initially dealt five cards and then can choose to keep or discard as many of them as they like. After the draw, the player is then paid out, depending on the strength of their final hand.
The higher the rank of the hand, the more the player wins. Playing Sevens Wild Video Poker Online Players can play Sevens Wild Video Poker online at many different casinos. The game is available in both free and real money versions, so players can test out the game before committing to real money play. The online version of the game is a great way to practice and hone skills before playing in a live casino.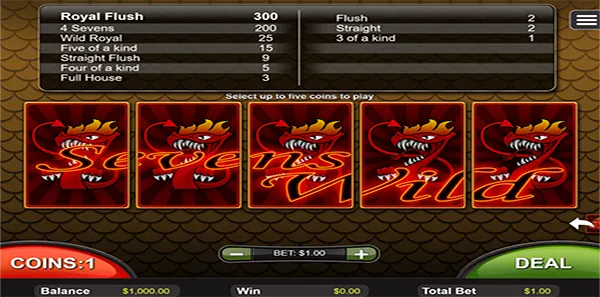 The Rules of Sevens Wild Video Poker
Sevens Wild Video Poker is a popular game among poker enthusiasts due to its simplicity and the added excitement of having sevens act as wild cards. With sevens as wild, any card that contains a seven can be used to create a winning hand. This makes it easier to form high-value hands, such as four-of-a-kind or a straight flush.
It's important to note that the game still follows traditional poker rules, so understanding hand rankings is essential for success. Players should also be aware of the payout table for the specific version of the game they're playing, as this can vary between casinos and online platforms.
The Software Providers
Sevens Wild Video Poker is available at a variety of casinos, so it's important to check which software provider is being used. The most renowned provider of Sevens Wild Poker is Realtime Gaming, one of the best software providers in the industry. This provider has different versions of Video poker too, so players should take the time to find the version they like best.
Difference Between Traditional Poker and Sevens Wild Video Poker
The main difference between traditional poker and Sevens Wild VP is the presence of wild cards. In Sevens Wild, all sevens are wild, so players can use them to create bigger hands than they normally would in regular poker. This means that there's more of an element of luck involved, as opposed to traditional poker which is based more on skill.
The Benefits of Playing Sevens Wild
Sevens Wild Video Poker offers players the chance to experience the thrill of poker without the need for an opponent. The game is also fast-paced and exciting, and the addition of wild cards makes it more unpredictable and exciting. As players can practice the game for free before playing for real money, it's also a great way to learn the game.
Playing Sevens Wild VP on Mobile
With the new mobile technology available, Sevens Wild Video Poker has become a popular game among online casino enthusiasts. These days, most online casinos offer mobile versions of the game, giving players the freedom to play while on the move.
Whether during their daily commute or on a lunch break, players can enjoy the game from virtually anywhere as long as they have an internet connection. The unique twist of having sevens act as wild cards adds an extra layer of excitement to the game play, making it a top choice for those seeking the thrill of poker in a mobile setting.
Common Range of Bets
Most commonly seen range of bet per hands in this game will range from $0.25 up to a maximum of $5.00. Occasionally you may see higher maximum depending on the casino or even your VIP level.
High RTP
The average RTP for most video poker games are above 99%. This particular variant on RTG software is 99.17%. Obviously in order to achieve that you need to play solid strategy.
RTG Sevens Wild Video Poker Strategy
In Sevens Wild Video Poker, luck plays a significant role, and therefore there is no one-size-fits-all strategy that guarantees success. However, players can increase their chances of winning by following some simple tips. Firstly, players should always aim to create the highest-ranking hand possible.
This means that players should prioritize forming high-value hands such as straight flushes, four-of-a-kind, or full houses. Secondly, it's important to keep an eye on the paytable to see which hands offer the best payouts. This can help players make informed decisions about which cards to hold and which to discard. By combining luck with smart play, players can enjoy the excitement of Sevens Wild Video Poker while increasing their chances of success.
Conclusion
Sevens Wild is an exciting and unpredictable game that combines the classic game of poker with a punch. This version of Video Poker is available both online and on mobile, so players can enjoy it anytime, anywhere. With the right strategy, players can increase their chances of success, and with the addition of wild cards, the game is even more unpredictable and exciting.
CasinoExtreme

100% up to $2000 on Slots
US Accepted
Mobile Available
Progressive Jackpots
18+ Terms and Conditions Apply
See casino site for more information. Please gamble responsibly. 18+ begambleaware.org.