RTG Deuces Wild Video Poker
A deeper dive into RTG deuces wild video poker with a look at which strategies are best for winning players depending on the hand dealt.
Introducing RTG Deuces Wild Video Poker
The Video Poker game Deuces Wild is very similar to other games of its kind, such as Jacks or Better and Double Bonus Poker. It uses a standard deck of 52 cards, and you must select which cards to keep in the hopes of getting a Royal Flush. However, Deuces Wild Poker offers something unique that other variations don't – the ability to replace any card with a deuce. To put it differently, the deuces (2s) function as wildcards in this game.
How To Play RTG Deuces Wild Poker
This guide aims to help new video poker players learn how to play Deuces Wild Video Poker. Luckily, the game is straightforward. To start playing, you can join almost any online casino and once you have an account you can either play for free or try their demo versions of the game.
For a few examples you can try the RTG version at Uptown Aces or Cherry Jackpot casino.
Here are the steps to follow:
Choose your wager (it's advisable, to begin with small bets).
After receiving five cards, decide which ones to retain and which to discard (never throw away a deuce!). Remember they are wild.
Examine your new hand.
Collect your winnings or decide to go for double or nothing.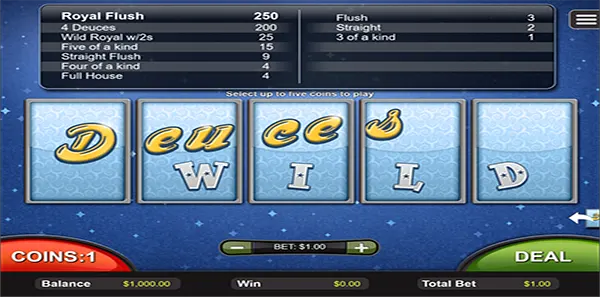 Deuces Wild Poker Rules
When you play Deuces Wild Poker, the game is typically played using a 52-card deck. At the start of the game, you will receive a hand of five cards. You have the option to keep or discard cards to form a winning hand. Keep in mind, this game treats all twos as wild cards, allowing their substitution for other cards to compose a better hand.
Winning Hands
Learning the winning hands in Deuces Wild Video Poker can be overwhelming for beginners, with terms like "Full House" and "Deuces Royal Flush" being confusing.
It's understandable, as even I had trouble learning the game of poker in the beginning.
However, understanding the names of the winning hands is essential, and these are the most commonly used terms in Deuces Wild Poker:
Three of a kind: three cards of the same value.
Straight: five cards in sequence, regardless of suit.
Flush: five cards of the same suit.
Full House: a pair and a three of a kind.
Four of a kind: four cards of the same value.
Straight flush: five sequential cards of the same suit.
Five of a kind: four cards of the same value and a deuce.
Deuces royal flush: a Royal Flush with one card replaced by a deuce.
Four deuces: four 2s, which is self-explanatory.
Natural royal flush: a Royal Flush without any deuces.
The above list of hands are ranked starting with the lowest to highest. See the in game paytables to see the value of each hand. Don't forget that a deuce is seen as a wild and can replace any card, except a Natural Royal Flush.
Deuces Wild Poker Strategy
For those new to RTG Deuces Wild Video Poker, here's the optimal strategy to follow. It's straightforward, so don't worry! Each of the following scenarios will contain an example of a deal, followed by your most common strategy choice.
Four to a Royal Flush – hold 4 cards, draw 1.
Dealt four of a kind – hold 4 cards, draw 1.
Three of a kind – hold 3 cards, draw 2.
Four to a Straight Flush – hold 4 cards, draw 1.
Three to a Royal Flush – hold 3 cards, draw 2.
One pair – hold 2 cards, draw 3.
Four to a Flush – hold 4 cards, draw 1.
Dealt Four to a Straight – hold 4 cards, draw 1.
Three to a Straight Flush – hold 3 cards, draw 2.
Two to a Royal Flush – hold 2 cards, draw 3.
No winning hand – hold 0 cards, draw 5.
Software Providers
This deuces wild review takes a closer look at the RealTime Gaming variation of the game. There are many software providers in the online gambling industry that offer Deuces Wild Video Poker at online casinos. Some of the major providers include Betsoft, Realtime Gaming (RTG), Microgaming, Playtech, NetEnt, IGT, Novomatic and Rival Gaming. See our other game reviews if you are interested in the WGS, Rival, Microgaming or other software variants.
Although they may offer the game under different names or with slight variations in rules, the overall gameplay and strategy of Deuces Wild Video Poker remain the same.
Is Deuces Wild Better Than Jacks or Better?
Recently a visitor asked if playing deuces wild video poker was better then jacks or better. Although some games can be unfavorable in the long run, there are some exceptions. Certain games, when played with some strategy, can offer great results. Among these games is Video Poker, particularly Deuces Wild Video Poker, which is considered one of the most profitable options at a casino.
For new online gamblers, it's recommended to carefully choose the best video poker games. Deuces Wild Video Poker is categorized as a game that provides the highest payback and should be taken into consideration.
Jacks or Better video poker is the most famous variation of video poker, but not the best bet. It's impossible to miss this game in the casino. Whether you are walking through the casino or online, you aren't going to have a tough time finding this one. However, it would be in your best interest to look for Deuces Wild Video Poker instead. It's a similar game but with a couple of key differences.
Advantages of Deuces Wild over Jacks Or Better
The most notable difference is the return to player rate (RTP) and house edge. Deuces Wild Video Poker has a better RTP than Jacks or Better, thanks to the presence of the wild cards. The wild cards can replace any other card in the deck, which increases the odds of hitting a winning hand. Additionally, Deuces Wild has two different paytables, both of which offer better odds than the best Jacks or Better paytable.
Another significant advantage of Deuces Wild is the strategic advantage it offers. Deuces Wild has a unique strategy, different from Jacks or Better, which can give you a better edge over the house. By using the right strategy, you can increase your chances of hitting a winning hand.
Final Thoughts
Poker lovers are drawn to Deuces Wild primarily because of its high payout percentage, which gives players a 0.76% edge over the casino.
While there are rare variations of video poker with payout percentages over 103%, finding them can be difficult, and they may even no longer exist in Las Vegas. Deuces Wild also has different variations such as Hot Roll, Peek and Play, Multi-Strike, and Pick and Pair Poker.
In the end we enjoy many different variations of video poker such as deuces wild and others so we often try different games depending on our mood and which casino we are visiting. Give this game a try and see if you like it.
Uptown Aces

250% bonus up to $2,500
US Accepted
Mobile Available
Progressive Jackpots
18+ Terms and Conditions Apply
See casino site for more information. Please gamble responsibly. 18+ begambleaware.org.