WGS All American VP
WGS All American vp is more then just a game for American's but a great variation of video poker that is enjoyed worldwide.
Introduction to WGS All American VP (Video Poker)
The game of All American Video Poker pits you against the dealer using a 52-card deck. If you're familiar with playing video poker using a standard deck without wild cards, then playing All American won't be difficult for you.
Like many other video poker games, it has several variations that have different paytables, which affects the payback percentage. It's essential to learn how to identify the best-paying option to increase your chances of winning.
For those who are eager to play All American poker, a strategy can help them improve their chances of winning. This game is particularly popular among virtual video poker players because it has better online variants than land-based casinos.
Gameplay and Rules
All American Poker follows the same fundamental rules and gameplay as Jacks or Better and other video poker variations. It uses a standard deck of 52 cards and deals five cards in the first round. You have the option to retain the cards you wish to keep and discard the ones that don't work for you.
The game then replaces the discarded cards with new cards from the same deck. You can now create the best possible hand combination based on the pay table of the game, and you can expect the following payouts for specific hands:
Standard payout: Royal Flush, Jacks or Better, Three of a Kind.
Higher payout: Straight Flush, Flush, Straight.
Lower payout: Two Pair, Full House.
What Is The Difference With All American Video Poker?
Many video poker games are based on the classic video poker game of Jacks or Better, but they vary greatly in their pay tables. Some games introduce wild cards, which can significantly alter the game's dynamics.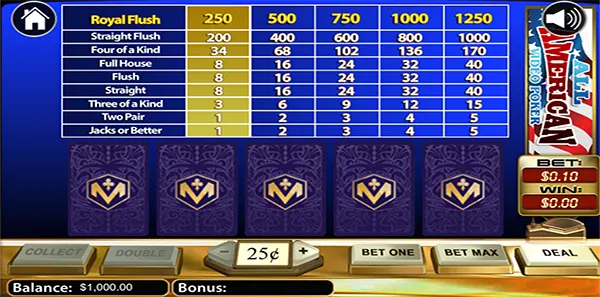 Advantages and Disadvantages
Compared to Jacks or Better, All American Poker provides more opportunities for payouts on different hand combinations, but players must have a clear poker strategy to succeed.
However, a slight disadvantage of All American Poker is that it pays out less on some hands, such as Two Pair and a Full House.
How To Play WGS All American Video Poker Online
All American Poker is similar to Jacks or Better in terms of rules, making it easy to learn. To start the game, players choose their bet size, with the recommendation to place the maximum bet to increase winning chances.
In this game, players can stake up to 5 coins. The player is dealt five random cards and must decide which ones to discard and replace in hopes of forming a winning hand. If the player lands a winning combination on the second draw, they will be paid according to the paytable.
Some online versions of All American Poker offer a double-up feature where players can double their profits by making an additional bet. This involves choosing a card that will beat the one displayed on the screen. Winning doubles the payout, but choosing a card of lower value results in losing the base game's profit.
All American Poker Strategy
Below we will explore different scenarios that require you to choose between two key options when discarding cards. Instead of starting from scratch, we will focus on how these situations differ from Jacks or Better, which will simplify the whole process.
Breaking Made Flushes and Straights: Contrary to popular belief, breaking a dealt out flush or straight can be beneficial. For example, you should always break a dealt out hand for four to a royal flush. However, when breaking for a straight flush, it can be more complicated.
Here are some payouts for different types of hands to help you make a decision:
Made straight or flush (8x).
Four consecutive cards to a straight flush (10.55x).
Four cards to a straight flush with one gap and three high cards (6.15x).
Three cards to a royal flush (1.51x).
In WGS All American vp, you should only break a dealt out straight or flush for four to a royal or four consecutive cards to a straight flush. Additionally, there are a few other considerations.
Pairs and Flush Draws:
The most difficult decisions in video poker occur when you have a pair and can either keep it or split it for a flush or straight draw. This decision is further complicated in All American by the increased payouts for straights and flushes.
For instance, a flush draw in Jacks or Better is not as good as a high pair, but it's the opposite in All American. In general, flushes beat out high pairs, including aces, kings, queens, or jacks.
Pairs and Straight Draws:
Determining the best play with a straight draw depends on the number of high cards in the draw. An open-ended straight draw is generally better than any pair in All American, except for the scenario JJT98. Inside straight draws are more complicated, as shown by the example of a 99865 hand with no flush draw.
Here, keeping the pair of nines is better than the inside straight draw of 9865, as only sevens make the straight. However, adding high cards to the draw can change the strategy. For example, a JT997 hand with no flush draw should be played for the inside straight draw with one high card, rather than the low pair of nines.
Software Providers:
WGS All American Video Poker is the main focal point of this game review. All American is a popular online casino game offered by several software providers. Some of the most well-known software providers of All American include Realtime Gaming (RTG), Rival Gaming, NetEnt, Microgaming, Playtech, Betsoft, Cryptologic, WGS Technology (formerly known as Vegas Technology), and Saucify (formerly known as BetOnSoft).
Despite the variations and features offered by different software providers, players can rest assured that they will be playing the same game with the same basic rules and objectives. Ultimately, the choice of software provider will come down to personal preferences.
Conclusion
WGS All American VP is a variant of Jacks or Better that offers larger payouts for certain high-ranking hands. However, this is compensated for by reducing the payout for the 2 pairs, which affects the game's overall payback percentage.
Because 2 pair occurs approximately once every 12 hands, this increases the game's volatility compared to other variations. However, the higher payouts for other hands may not have a significant impact unless playing long sessions.
Nevertheless, players familiar with Jacks or Better may find American video poker to be a very enjoyable game table option.
Miami Club

100% up to $100 on Slots
US Accepted
Mobile Available
Progressive Jackpots
18+ Terms and Conditions Apply
See casino site for more information. Please gamble responsibly. 18+ begambleaware.org.