Video Poker Skill or Not
A number of our readers have asked us to tackle the question is playing the game of video poker skill or not?
Blending of Multiple Games
Video poker is an online game that blends the rapid pace of slot machines with the strategic aspects of traditional poker, creating an incredibly enjoyable casino game. However, the question arises: is video poker purely based on chance or does it involve skill? The answer lies in a combination of both elements. Let's look deeper into this topic to understand how skill and luck intertwine in video poker.
Skill in Video Poker
Mastering video poker requires skill and strategy, going beyond mere luck. While the outcomes of slot machines are determined solely by chance, video poker introduces a dynamic where players have power over the game's outcome.
At the beginning of each hand, players receive five cards. The skill factor emerges as they are required to make strategic decisions about which cards to keep and which to discard. Understanding the probabilities and hand rankings is crucial for making informed choices that largely influence the game's outcome.
For instance, when dealt two pairs, it's generally advisable to keep them and discard the fifth card, aiming for a full house. On the other hand, when you have a hand consisting of four cards of the same suit, it is more beneficial to discard the fifth card and focus on obtaining a flush. This ability to make strategic decisions is a skill that can be improved through dedicated practice and gaining experience over time.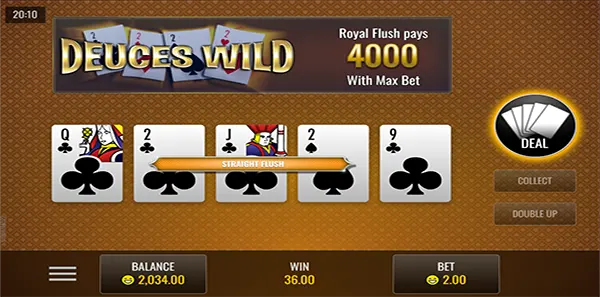 Luck in Video Poker
While skill plays a significant role in video poker, luck is also a factor to consider. The initial five cards dealt to the player are random, and the replacement cards received after discarding are also dealt randomly from the remaining deck. This randomness means that even with skillful play, winning every hand is not guaranteed.
Furthermore, video poker machines incorporate random number generators to guarantee fairness. This ensures that the cards dealt in each game are entirely random and that each hand is unrelated to the previous one. While skill can enhance the likelihood of winning, it cannot eliminate the presence of chance in the game.
Balancing Skill and Luck
Mastering the delicate balance between skill and luck is key in video poker. Although you have no control over the cards dealt to you, you can influence the outcome by using strategic gameplay. By familiarizing yourself with effective video poker strategies, you can enhance your odds of success and maximize your winning potential.
For instance, games like Jacks or Better, Deuces Wild, and Double Bonus Poker each have their own optimal strategies. Mastering these strategies allows you to make well-informed decisions for each hand you get. It's so important to keep in mind that while these strategies do not promise instant wins but they do undeniably improve your overall chances of winning in the long run.
Conclusion
In conclusion, video poker combines skill and luck to create an engaging casino game. While the initial card distribution is random, the decisions made by players can significantly impact the outcome. By learning and applying video poker strategies, players can enhance their chances of winning and enjoy a rewarding gaming experience.
Keep in mind that achieving success in video poker is contingent upon comprehending the game. You will need to implement sound strategies, and exercise prudent bankroll management. Whether you possess extensive experience or are new to the game, video poker provides a captivating amalgamation of skill and chance that ensures players remain engaged and stimulated.
Read though the casino and game reviews here at Video Poker World. When you are ready visit one of the recommended casinos and try some of the games for yourself.
Ducky Luck

500% up to $2500 on Slots
US Accepted
Mobile Available
Progressive Jackpots
Live Dealer Games
18+ Terms and Conditions Apply
See casino site for more information. Please gamble responsibly. 18+ begambleaware.org.