Rival Aces and Faces
With excellent graphics and great game play see why this version of Rival Aces and Faces is preferred by many video poker players.
Aces and Faces Versus Other VP Games
When comparing different variations of video poker, two main factors come into play: the presence of wild cards and the pay tables. Aces and Faces video poker is closely related to Jacks or Better, as it lacks wild cards. However, it offers higher payouts for a 4-of-a-kind, making it even more similar to Bonus Poker. The key distinction lies in the bonus amounts for different rankings of the 4 of a kind. Aces and Faces reward aces, kings, queens, or jacks with larger payouts, unlike Bonus Poker which favors aces, 2s, 3s, or 4s.
Rival Aces and Faces Video Poker Basics
Aces and Faces can be described as a combination of solitaire, slot machines, and poker. It is essential to understand that, despite its appearance, video poker is not a slot machine. Video poker games are based on known probabilities similar to card games, while slot machines rely on arbitrary symbols with unknown probabilities.
In Aces and Faces, like other video poker variations, skill plays a role. You are dealt 5 cards and have the opportunity to choose which cards to keep or discard. Strategy is crucial in making optimal decisions among the various possible card combinations.
Rival Gaming Aces and Faces Video Poker
Video poker games have always been a favorite choice for gamblers due to their high potential for winning real money. Among the popular variations offered at Rival casino sites, Aces and Faces stands out, offering a 4,000 coin jackpot and tremendous rewards. In this article, we'll explore the gameplay, features, and overall verdict of this exciting video poker game.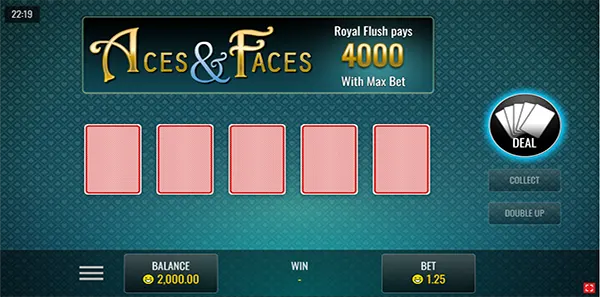 How to Play Aces and Faces
To start earning payouts, players can begin by practicing with free hands before placing bets. Aces and Faces allow players to bet 1 to 5 coins per hand, and they can adjust the amount by choosing different coin denominations. The game offers an affordable betting range, with a minimum bet of $0.05 and a maximum bet of $125. Some casinos may limit this to $25.00 depending on the VIP level.
Once the bet is placed, players can click on the "Deal" button to receive 5 cards. They can then choose which cards to hold and which to discard, and by clicking on the "Draw" button, they will receive new cards to replace the discarded ones.
Payouts are awarded based on the pay table, and the game concludes accordingly. For faster wagering, there's a "Max Bet" button available. Additionally, players can enjoy Aces and Faces in a multi-hand format, allowing them to play up to 4 hands simultaneously with one bet.
Game Features
Unlike video slot games, video poker selections generally do not include bonus rounds or complex special features. However, Aces and Faces offer a straightforward gameplay experience with the potential for high payouts. Here are the notable features:
Wilds: Aces and Faces is played with a standard deck of 52 cards, without the use of wild cards. Players must create the best possible poker hand using the available cards.
Special Payouts: This version of Aces and Faces introduces additional payouts on the pay table. Players receive rewards for four-of-a-kind hands created with 2 through 10, as well as hands using Jack, Queen, and King. Notably, four Aces provide one of the top rewards, offering 400 coins with a maximum five-coin bet.
Multi-Hand Play: Aces and Faces allow players to engage in both single-hand and multi-hand gameplay. When playing multiple hands, a separate wager is required for each hand, which increases the cost but also enhances the potential payouts. This feature appeals to avid video poker enthusiasts seeking more excitement.
Payback Percentage and House Edge Explained
In video poker discussions, the term "payback percentage" is used instead of "house edge." The payback percentage represents the amount of money you expect to win for every $100 wagered. It can be calculated by considering the average size of your bet, the number of bets made, and the house edge.
Aces and Faces, with a payback percentage of 99.25%, implies a house edge of 0.75%. It is important to note that these percentages assume optimal play and deviations from the optimal strategy can reduce the expected payback.
Tips for Playing Rival Aces and Faces Video Poker
Playing Aces and Faces Video Poker can be an exciting and rewarding experience. To enhance your gameplay and maximize your chances of success, here are some helpful tips:
Set a Budget: Always ensure that you gamble responsibly and within your means. Before starting a session, determine how much you are willing to lose and be prepared to walk away if you reach that limit. Avoid the temptation to continue gambling and potentially exceed your financial limits.
Bet with Maximum Coins: In Aces and Faces, like other Video Poker variations, wagering with 5 coins offers a significantly larger payout for a Royal Flush compared to betting with 4 or fewer coins. It is advisable to play with the maximum number of coins, even if it means reducing the value of each coin.
Compare Payouts: Take the time to compare the payouts for Aces and Faces Video Poker at different casinos. Although the payouts are likely to be similar, finding a casino with slightly better payouts for specific hands can make a difference to your overall session.
Choose Reputable Casinos: Prioritize playing at reputable casinos that have a proven track record of fair play and prompt payouts. To ensure a reliable gaming experience, refer to recommended casinos from trustworthy sources, such as this site, where the listed casinos have been thoroughly tested and verified.
Enjoyment is Key: Remember that gambling should be an enjoyable activity. If it reaches a point where it is no longer fun, it is crucial to stop and walk away. Winning is exciting, but it should not come at the expense of exceeding your financial limits. Always play responsibly and avoid chasing losses.
The tips above are not perfect for everyone. They may help you understand a few of the best practices so you enjoy the game more. By following these tips, you can make the most of your Aces and Faces Video Poker sessions. It just may increase your chances of success while maintaining a responsible approach to gambling.
Aces and Faces Video Poker Strategy
Video poker strategy can be simplified and organized into a chart that guides your decision-making process. The strategy for Aces and Faces involves holding certain combinations of cards to maximize your chances of winning.
Starting from the top of the hierarchy, you hold hands such as a royal flush, a straight flush, 4 of a kind, and a full house. If you have a 4-card draw to a royal flush, that takes priority. If none of the above applies, you look for flushes, straights, 3 of a kind, or 2 pairs.
Where to Find Aces and Faces Casinos (Online or Offline)
Aces and Faces are more commonly available in online casinos compared to traditional brick-and-mortar establishments. If you are looking for a game in a land-based casino, larger properties in Las Vegas are more likely to offer it. For online players, Rival-powered casinos are a good option for finding Aces and Faces, while Realtime Gaming casinos do not typically offer this particular variation.
Conclusion
Video Poker has endured the test of time as one of the most popular and engaging casino game forms, and Aces and Faces from Rival Gaming is another thrilling creation that players will love and enjoy. This version offers an outstanding RTP of over 99%, providing frequent wins when players employ effective strategies.
With added payouts for face cards and aces, Aces and Faces presents numerous opportunities to win real money. The game's top reward of 4,000 coins for a Royal Flush makes it both rewarding and exhilarating. Players can enjoy Aces and Faces on both desktop and mobile devices.
Wild Casino

250% bonus up to $1,000
US Accepted
Mobile Available
Progressive Jackpots
Live Dealer Games
18+ Terms and Conditions Apply
See casino site for more information. Please gamble responsibly. 18+ begambleaware.org.