RTG Aces and Eights
RTG Aces and Eights is a super fun and rewarding style of video poker. Read our review to see how fun the game can be.
RTG Aces and Eights
As avid casino fans find exciting variations of different video poker games, RTG's Aces and Eights stands out as a top option. While it closely resembles a standard video poker game, it introduces a unique payout for a Four of a Kind consisting of Aces or 8s. Whether playing with 52 or 100 hands, this variant offers a faster-paced and exhilarating gaming experience.
History Of Aces And Eights
Aces and Eights is a popular variation of the classic Jacks or Better video poker game. It holds significance in poker lore as the "Dead Man's Hand." Legend has it that on the 2nd of August, 1876, a game of stud was played in Deadwood, a town in the Dakota Territory. One of the players was the notorious gambler and gunman "Wild Bill" Hickok. Hickok, known for his duels and shootouts in the Old West, held a strong hand consisting of the ace of clubs, ace of spades, eight of spades, and eight of clubs.
However, his opponent, Jack "Crooked Nose" McCall, shot Hickok in the head while he was distracted, resulting in his untimely death. Since that fateful day, the hand Hickok held became known as the Dead Man's Hand.
Extremely Popular Variant of Video Poker
There is no doubt that Aces and Eights are one of the more popular variations. This particular review will focus on the version from RTG although you may see the similar game in casinos using other software. In fact the screen shot below is the RTG version.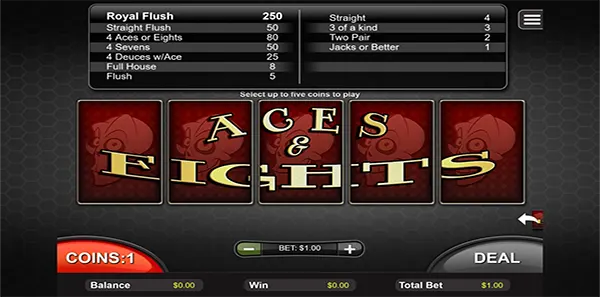 Rules and Gameplay
Aces and Eights is a different version of Jacks or Better, so understanding the basic rules of video poker is important. The game follows the standard gameplay of poker hand rankings with a few key changes. If you are unfamiliar with hand rankings, refer to the list provided below:
The Royal Flush consists of a Queen, King, Ace, Jack and 10 in the same suit.
A Straight Flush consists of five same-suited consecutive cards.
The Four Aces or Four Eights are Four cards (Aces or Eights) with the same rank.
The Four Sevens are Four cards of the rank seven.
The Four of a Kind is Four cards with the same rank that exclude Aces, Eights, and Sevens.
A Full House is Three of a kind and a pair.
A Flush is any five cards that are in the same suit.
A Straight is five consecutive cards.
A Three of a Kind is three of the same ranking cards.
A Two Pair is two sets of two cards with the same rank.
A One Pair is one set of two cards with the same rank.
Odds and RTP of RTG Aces and Eights
Depending on the online version of Aces and Eights, there are two different RTPs to consider.
The first variant provides a 7 to 1 payout for a Full House, resulting in an RTP of 98.63% when betting the maximum of 5 coins. However, an alternative option offers an 8 to 1 payout for the same hand, increasing the RTP to an impressive 99.78%. Opting for the second option, coupled with an optimal strategy, improves your chances of achieving better results.
To maximize the RTP, it is recommended to bet a maximum of 5 coins. Aces and Eights, like other video poker games, allows bets ranging from 1 to 5 coins. The higher RTP on the maximum bet is due to the highest possible payout being attainable only with a 5-coin wager.
Number of Hands and Winning Chances
Playing with more hands, whether 52 or 100, does not impact your winning chances directly. The determining factor remains the paytable of the game. Drawing a favorable hand on the initial draw can be advantageous when playing with multiple lines, leading to fruitful outcomes. However, keep in mind that larger bets are required when playing with multiple hands.
While Aces and Eights offer tempting payouts for a Four of a Kind with Aces, 8s, or 7s, it's important not to fixate solely on these hands, as they are not easily achieved.
Additional Features of Aces and Eights
Certain websites offer the option to bet on 52 or even 100 hands simultaneously, allowing for a faster accumulation of winnings. However, exercising caution with this feature is advised, as larger bets are necessary.
Another enticing feature is the opportunity to double your winnings. After a successful hand, you can choose to wager your payout and potentially double the amount. In this bonus game, one card is revealed face-up, while four cards remain face-down. Your objective is to select one of the face-down cards and beat the dealer's face-up card. A correct guess results in doubling your winnings, while an incorrect one forfeits your initial win.
Strategy for Aces and Eights Video Poker
Here are some general tips to help you develop a winning strategy:
Hold Aces, Eights, and Sevens: As the name suggests, Aces and Eights video poker emphasize the value of these specific cards. Always hold on to Aces, Eights, and Sevens if you have them in your initial hand.
Maximize Your Winnings: Aces and Eights allow greater payouts by focusing on creating a set of four matching cards. Achieving a four-of-a-kind combination, particularly with Aces, Eights, or Sevens, significantly boosts your chances of winning big. Therefore, it is generally recommended to prioritize holding potential four-of-a-kind combinations, even if it entails forfeiting other winning combinations such as pairs or three-of-a-kind hands.
Follow Basic Video Poker Strategy: It's also crucial to apply basic video poker strategy. This includes holding on to high-value cards (such as face cards), discarding unnecessary cards, and aiming for straight flushes and royal flushes when the opportunity arises.
Practice and Familiarize Yourself: Like any casino game, practice is key to improving your skills. Many online platforms offer free play or demo modes for Aces and Eights video poker.
Manage your bankroll responsibly: Set limits, and enjoy the game for its entertainment value.
Conclusion
Aces and Eights provides an enjoyable video poker experience. Its simplicity is captivating, and the special bonus payouts for holding four Aces, 8s, or 7s add an extra thrill.
See our recommended RTG Casinos where you can play this game.
CasinoExtreme

100% up to $2000 on Slots
US Accepted
Mobile Available
Progressive Jackpots
18+ Terms and Conditions Apply
See casino site for more information. Please gamble responsibly. 18+ begambleaware.org.